Based on our initial assessment (including peer-review, impact factor signals, and search ranking), here are the top 10 academic journals that publish social media research. Note that we will continue to update this list, and we may even include more than 10 you can vote on. Important to note: you are welcome to vote on your favorite at any time and votes, of course, will change the ranking order for this list.
Social Media + Society is an online, open-access, peer-reviewed scholarly journal deeply committed to advancing the understanding of social media and its impact on societies past, present and future. With a leading editorial team, the journal offers a collaborative, open, and shared space dedicated to the study of social media and their implications for societies. It facilitates state-of-the-art research on cutting-edge trends and enables scholars to develop research and track trends...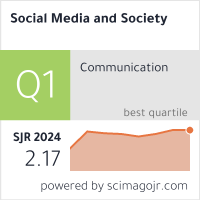 This post was created with our nice and easy submission form. Create your post!